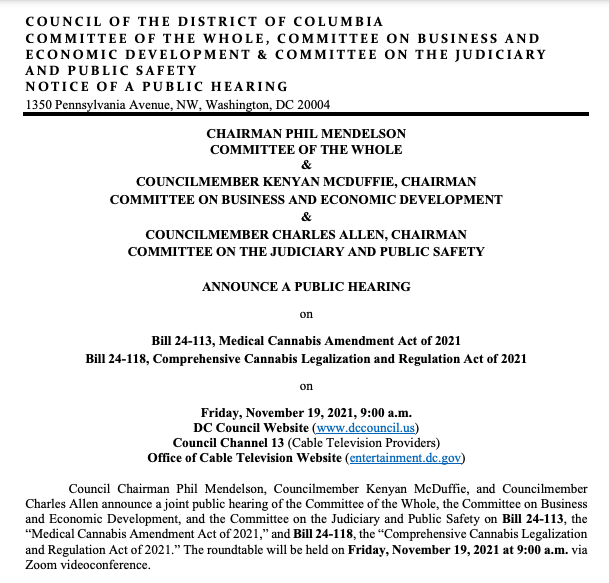 The DC Council is holding a special hearing on
Friday, November 19

for the public to provide comment on their comprehensive cannabis tax & regulate legislation.

You are invited to testify on Zoom about what you like, don't like, and want changed in the proposed law.

The last time the DC Council had a hearing on comprehensive tax & regulate cannabis legislation was October 30 2014, before Initiative 71 was voted on and before the Harris Rider was added to the federal budget for the District of Columbia.

We have patiently waited for this incredibly important hearing and now is the time to unleash the creativity of the DC cannabis community!  We need to highlight what we, as cannabis consumers, growers, and small business owners, really want and you are invited to join us.
We have linked up with the DC Cannabis Business Association to transform next week's Zoom Sesh to a full reading of the 74 page legislation. 
Together we will read over the proposed legislation line by line and make collective notes on a shared Google Doc about what we what like, don't like, and what we want changed.
Often people in the cannabis community don't feel empowered to read the laws or participate this in this important process because they are not lawyers. The truth is that you don't need to be a lawyer to read, comment, or testify on proposed legislation!  More importantly, we will have at least one lawyer on hand during our reading next week to help everyone interpret the legislation.
First and foremost, click here to register to testify on November 19.  The sooner you testify, the earlier you will testify on Zoom on November 19. The DC Council usually makes the witness list (the people who signed up to testify) in order of their registration.  We expect a lot of people to sign up, so please fill out the google form now.  You *do not* need to be a DC resident to testify! This means anyone in the world with an Internet connection and Zoom can testify. 
Secondly, register for next week's Zoom Sesh (see below). If you have already registered for a previous DCMJ Zoom Sesh, you do not need to register again because we've added you to a special RSVP email list. However, it's always good to know how many people are attending. This month's Special Sesh will commence at 7:10pm, Wednesday, October 13 and might go late in order for us to make it through the entire piece of legislation.
Third, if you want some good old fashioned homework, read over the 74 page legislation now. By reading B24-0118, "Comprehensive Cannabis Legalization and Regulation Act of 2021," in advance you will be able to provide your important feedback more quickly. We recommend opening up a spreadsheet and writing the line number (left side of the page) of the sections that interests you in one column and writing the what you like, what you don't like, and what you want changed in the next column.  When we get to your sections, you will be ready to provide your feedback.
Together we are going to craft the forward-thinking, just, and comprehensive cannabis law in the United States. Over the years, we've seen what works and what doesn't work in other states and now is the time for us to use our collective wisdom to make DC's tax & regulate law the one we want!