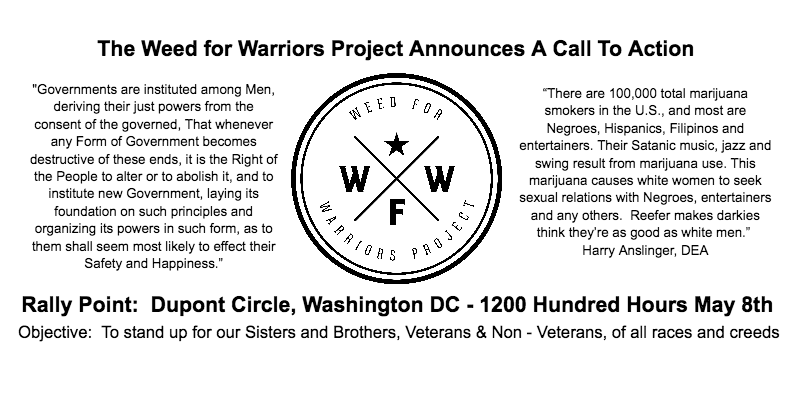 Join the Weed for Warriors Project this coming Monday at noon in Dupont Circle for a rally concerning Johns Hopkins University's about face on researching medical cannabis for veterans with post-traumatic stress disorder (PTSD).
For those of you not aware, the federal government needlessly restricts research on cannabis and when they finally allow research to go forward, they provide researchers with horrible quality cannabis.
When the principle investigator, Dr. Sue Sisley, came forward in March to highlight the fact that the government's substandard cannabis contained mold, Johns Hopkins University cancelled the research study.
This Monday we're rallying at Dupont Circle and then marching down Massachusetts Ave. to the Johns Hopkins University's DC campus to demand the DEA-approved research go forward!  Please join us!
WHO: Veterans with Weed For Warriors, DCMJ members, and advocates for cannabis research
WHAT: Rally & March for PTSD research!
WHERE: Dupont Circle, Washington, DC
WHEN: High Noon, May 8, 2017
WHY: Veterans are currently prohibited from speaking with their VA doctors about using cannabis to combat PTSD. Without the scientific research backing up the anecdotal claims of thousands of veterans that cannabis helps with PTSD, our veterans will not be able to find relief they deserve. Thus, we are demanding that Johns Hopkins University restart the DEA-approved research study immediately!
Please take a moment and invite your friends on Facebook!  
We can't let important scientific research be silenced!