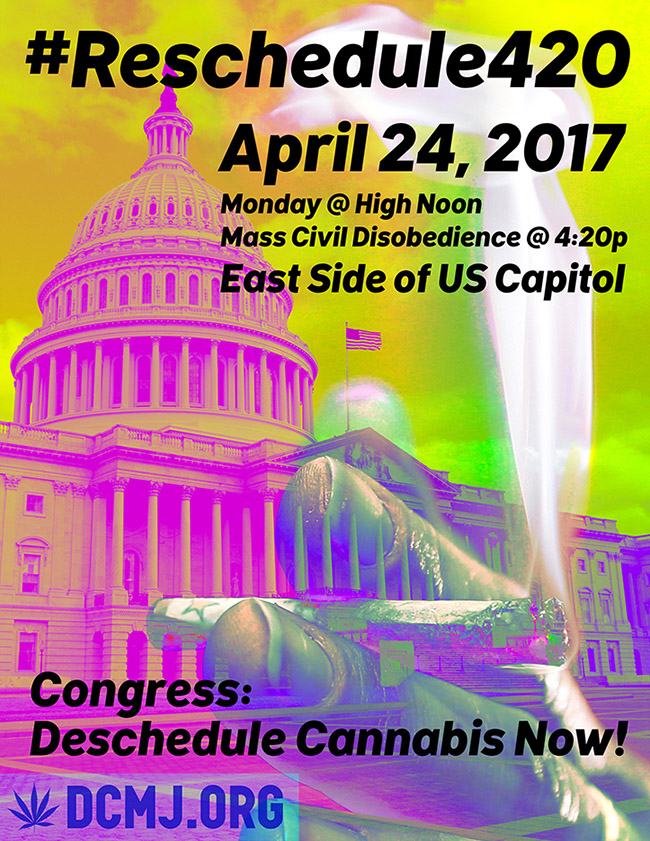 In case you missed it, at yesterday's White House Press Briefing spokesman Sean Spicer finally answered a question about cannabis. His response was not good. Please watch it for yourself.
It's Why We're Rescheduling 420 Again This Year!
New date & time: Gather at HIGH NOON, on Monday, April 24, 2017 with mass civil disobedience at 4:20pm
New location: The east side of the U.S. Capitol
This is a National Call to Action!


No More Waiting!! Congress Deschedule Cannabis NOW!

While other marijuana advocacy groups are issuing statements, we are calling on them to join us in a national demonstration on April 24, 2017. The powers that be ignore our statements and petitions but they cannot ignore us when we gather in large numbers. Therefore we need every cannabis supporter to join us at the Capitol! 

We are urging those of you reading this who live outside of DC, to reschedule your calendar, come to DC, and smoke out the office of your member of Congress. Locally, we have our eyes set on a few members of Congress that need to smell the change we desire.

Congress is not listening to us and they need to be reminded that America's cannabis laws need to be changed NOW. Not with some lame bandaid of a law that lets states do their own thing or rescheduling that prohibits plant access, but a comprehensive law that allows you to take your cannabis in a car from DC to California without fear of arrest.

Cannabis needs to be fully removed from the Controlled Substances Act, not pushed down to Schedule II into the hands of Big Pharma!

PLEASE NOTE: Possession of cannabis on the Capitol grounds is not legal. Consuming cannabis anywhere in DC outside of a home is not legal either. But sitting quietly while the Trump administration rolls back our freedoms is not something we plan to do. We need to be loud and proud!

The Inaugural #Trump420 showed that cannabis reform is not a partisan issue. There are millions of Trump supporters who support the full legalization of cannabis, and we are encouraging people of all political stripes to join this national mobilization!

Yesterday's poll showed a majority of Americans want cannabis reform. But unless we loudly demand it, we are going to get stuck with another shitty law that benefits corporations and not the American people.

We expect arrests to take place on Reschedule420 this year, but we know that our cause is just. We know that the best way to make America great again is not enforcing the outdated Controlled Substances Act, but providing Americans the liberty to choose cannabis for relaxation, enjoyment, and medicine.

Moreover, we can argue that ALL CANNABIS USE IS MEDICAL. If you use it to relax, that is medical. If you use it to put yourself into a better mood, that is medical. The argument that only some sick people can use cannabis while other adults are not sick enough to deserve it is deeply flawed. Many people use cannabis in order to not get sick!

TENTATIVE SCHEDULE:
April 20 – Smoke out your local Congressman's district office
April 22 – Join us at the National Cannabis Festival
April 23 – Attend Direct Action Training (Location TBA)
April 24 – #Reschedule420 at the U.S. Capitol

Please share this link with your friends and RSVP on Facebook.