UPDATED!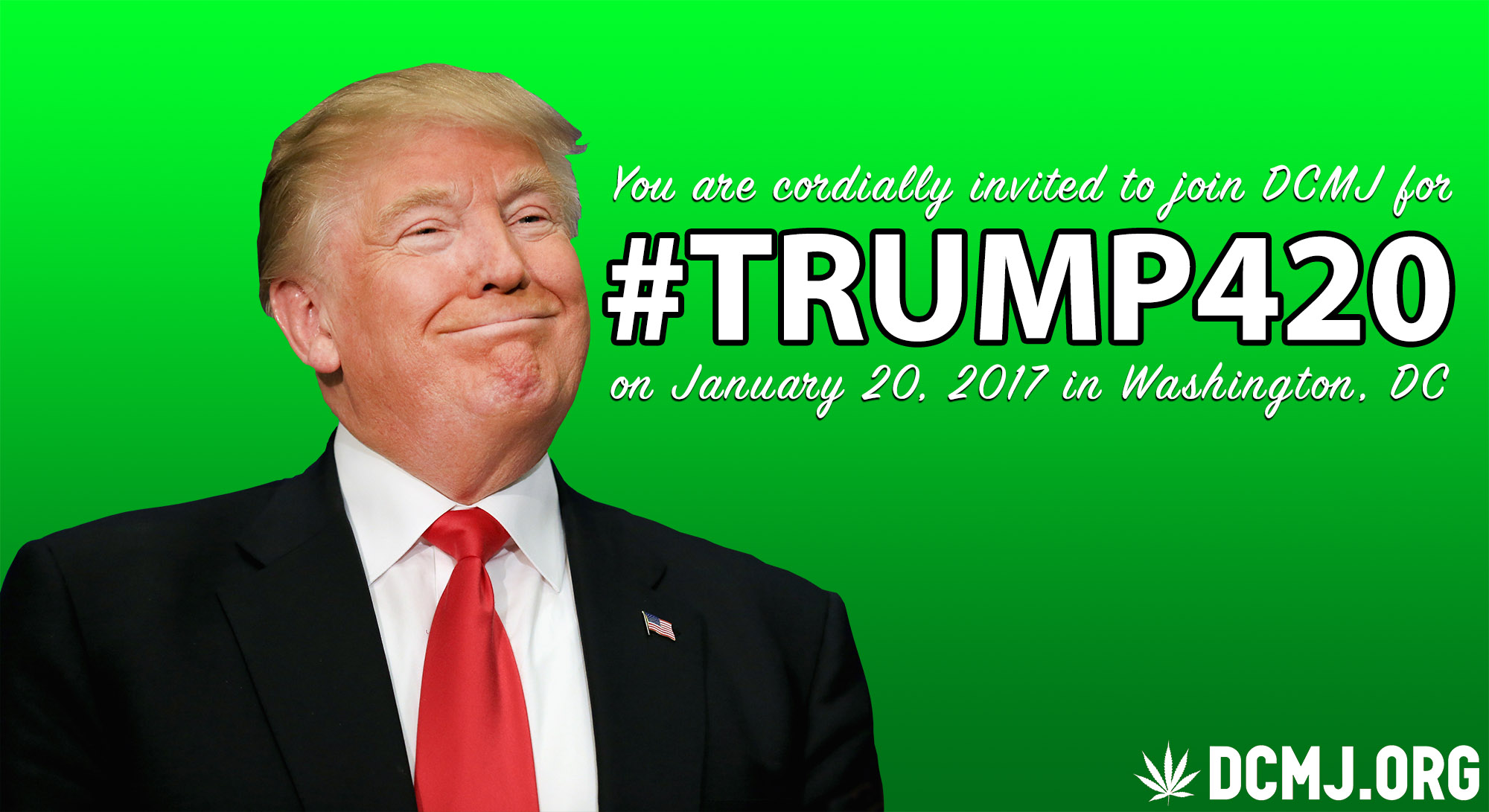 A big thank you goes out to the hundreds of volunteers and thousands of participants who helped make The Inaugural #Trump420 a huge success!
Below are some of the videos & news articles of the demonstration:
---
---

• Read More at Complex + Photos
---

• AFP: Marijuana activists hand out free joints for #Trump420 in DC
---

• Huffington Post: Pro-Weed Group In D.C. Gives Away More Than 8,000 Joints On Inauguration Day
---

• CNBC: Legal marijuana advocates pass out free weed at inauguration protest
---

• New York Times: Live from Inauguration: Legalize Marijuana Event
---

• ATTN: LIVE: People are handing out joints at Trump's inauguration right now.
---

• NowThisWeed: DCMJ Gave Out Thousands of Joints at the Inauguration
---

• FOX Business: 5,000 Free Joints Passed out in D.C. for Trump Inauguration
---

• ABC News: Pot Advocates Plan to Hand Out 4,200 Free Joints on Inauguration Day
---

• Merry Jane: Cannabis Activists Gave Out Free Weed at the Trump Inauguration
---

• LA Times: #Trump420: This group plans to pass out joints on its way to Trump's inauguration
---

Fox 5 DC: Pro-pot protesters prep for Inauguration Day
---

• By Garland Gay
---

• By Stephen Benkert
---

CNN International: Free marijuana on day of inauguration
---
• Washington Post: Inauguration protesters vandalize, set fires, try to disrupt Trump's oath, as police arrest more than 200
• Washington Post: Here's what we know about Trump Inauguration Day protests
• Washington Post: On Inauguration Day, marijuana activists in D.C. will give out 4,200 joints
• Washington Post: A real joint committee: On Inauguration Day, D.C. group handed out lots of weed
• New York Times: Marijuana Group Passes Out Free Joints for Trump's Inauguration
• Daily Mail: Pro-cannabis group hands out thousands of free joints in Washington
• CNN: Pro-weed organization to hand out free joints on Inauguration Day
• NBC News: It's Lit: Legal Weed Advocates Roll 4,200 Joints to Protest Trump at His Inauguration
• WJLA: 'Make America Kind Again' hand out thousands of marijuana joints to push weed legalization + VIDEO
• TIME: D.C. Weed Group Has Rolled 5,500 Free Joints for the Inauguration + Inside the #Trump420 Movement
• Independent: Cannabis activists to hand out thousands of free joints at Donald Trump's inauguration + January 20th VIDEO
• BBC: Five ways people are protesting against Trump
• UPI: Pro-pot activists to hand out free joints at Trump inauguration
• International Business Times: Stoners Smoke Weed On Inauguration Day To Pressure New White House Administration On Marijuana Policy + VIDEO
• Buzzfeed: Here's What It Was Like At The Inaugural Free Weed Giveaway
• The Hill: Group gives out thousands of free marijuana joints on Trump inauguration morning
• VICE News: D.C. was LIT!
• Boston University News Service: Thousands Advocate for Federal Marijuana Legalization on Inauguration Day
• DCist: Photos: Trump Supporters, Protesters Show A Bipartisan Interest In Free Pot Giveaway
• Westword: Weed Porn: Twenty Favorite Marijuana Instagram Posts From Trump's Inauguration
• Rare: Legalization activists smoke up and stand out at Trump Inauguration
• Slate: The Best Thing That Happened in Washington on Friday Morning Was Free Marijuana
• WTOP: Rolling protest: Pot advocates plan inauguration joint giveaway
• WAMU: Pot Giveaway Brings Together Supporters And Opponents Of Donald Trump
• Mashable: Huge lines to smoke free weed on Inauguration Day
• TMZ: FREE WEED! 4,000+ Joints Spark Up
• McClatchy: Of all the festivities planned for the Trump inauguration, the pot giveaway is unique
• GW Hatchet: Thousands receive free joints at marijuana legalization event
• High Times: Toke Grenades: DC Activists Pull Off Marijuana Fueled Trump Protest
• High Times: On-The-Scene Report From Inauguration Smoke-In
• High Times: #Trump420: Peaceful Assembly & Civil Disobedience with DCMJ
+ Hundreds More!!!
---
Line goes from Dupont Circle to Florida Ave.! #Trump420 pic.twitter.com/F5q5NTTdWN

— DCMJ (@DCMJ2014) January 20, 2017
---
Original Post: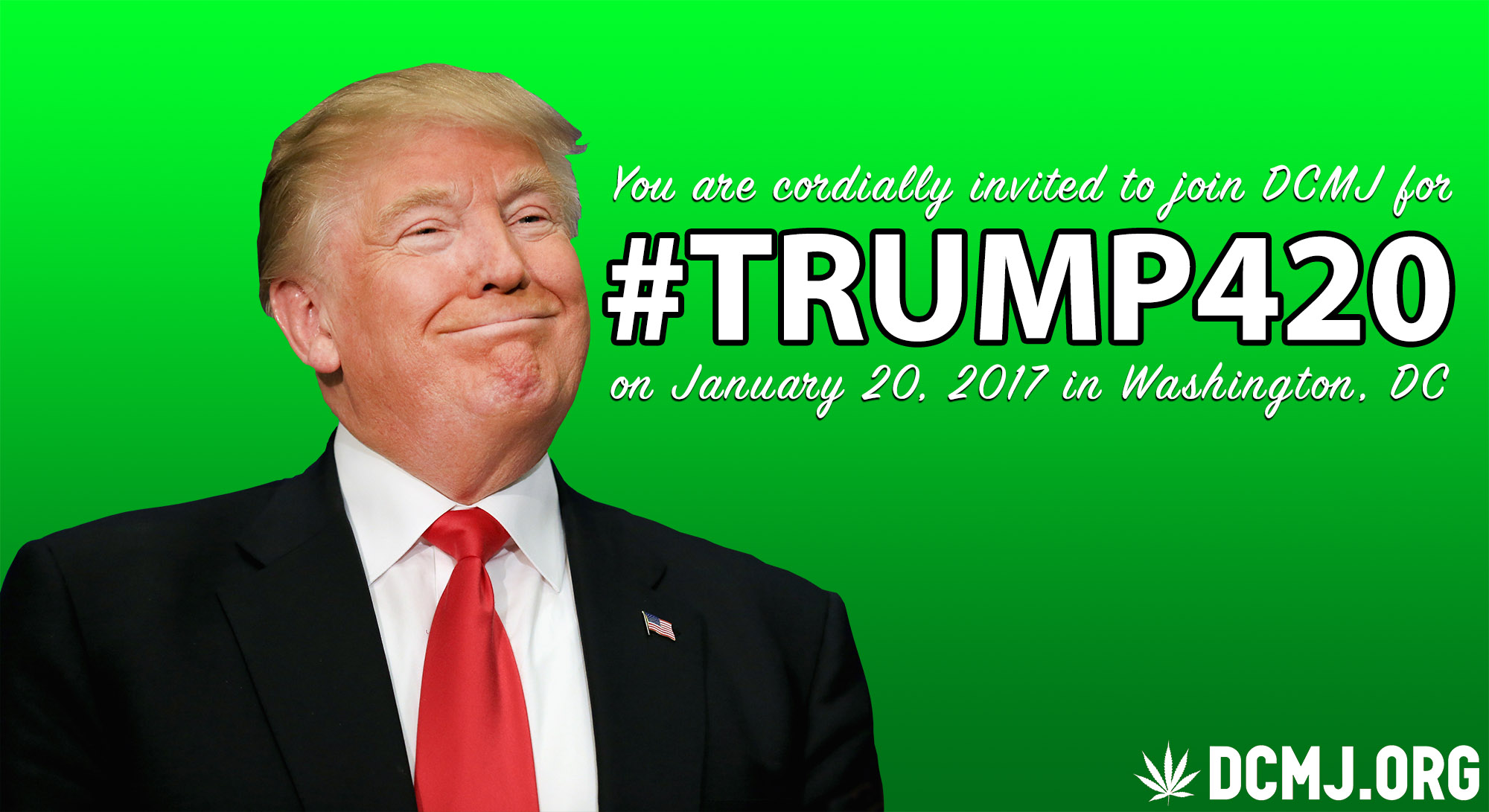 You are cordially invited to join DCMJ for the inaugural #Trump420 taking place on January 20, 2017 in Washington, DC!
We will gather on the west side of Dupont Circle at 8am for coffee & tea and parade down to the National Mall at 10am. Along the way we'll hand out 4,200 joints of legally grown cannabis! At 4 minutes and 20 seconds into President Trump's speech we'll light up! (unless President Trump comes out now in support of full cannabis legalization in all 50 States and DC!)
We legalized cannabis in Washington, DC and we are not going to let anyone take that away from us! This is an outreach opportunity to show President Trump's supporters we are the marijuana majority! Join us for smokin' fun time!
Invite your friends and spread the word! Click here to RSVP on Facebook!
---
IMPORTANT INFORMATION
We hope you are excited as we are to make history together! Unfortunately, we still haven't heard anything from the incoming administration about cannabis reform, so the Inaugural #Trump420 is still happening.
Below is a summary of last night's meeting as well as some of the logistical plans we'd like you to know about:
Volunteers are gathering at 7:30am along Massachusetts Ave. between Dupont Circle and 20th Street NW.  If you plan on volunteering please check-in with Rachel, our volunteer coordinator, who will be situated along 20th Street between Massachusetts Ave. and Q Street NW and will be wearing a red Phrygian cap.
We have volunteers broken into 4 teams:
ID Checkers –  They'll be checking IDs making sure everyone is older than 21 years of age
Line & Vibe – They'll ensure the line stays orderly on the sidewalk, keep street crossings clear, and keep the mood elevated
Media – Will assist the media that shows up to cover the demonstration
Donors – Will assist in helping those bringing joints to give away at the demonstration
Over 300 people have signed up to volunteer tomorrow and we believe we should have ample help to make everything go smoothly, but it's super important that everyone reading this helps out. 
Those of you who are showing up for a free joint (or two!), please help us out by talking to others in line with you. Many people joining us tomorrow are not on this email list and are showing up because they heard about this through the media. They might not know the nuances of Ballot Initiative 71 and you can provide invaluable help by simply making friends with the people in line with you and answering questions they might have.
If you are not a volunteer, when you arrive at the demonstration for your free joint(s), you will be asked to make your way to the end of the line, which will go west along Massachusetts Ave. towards Sheridan Circle.  At the end of the line you will get a stamp that indicates you got in line at the end and didn't cut in line.  Later when you get closer to the distribution point, another volunteer will check your government-issued ID to ensure that you are 21 years of age or older.  
After you get your joint(s), we kindly ask that you not light it up, but put the joint(s) away, and take it with you.  We are suggesting you cross the street and hang out on the other side of Massachusetts Ave. until we are ready to head down to the National Mall.  We plan on heading down to the National Mall around 10am.
Unfortunately, there is a new level of security that did not exist at the last inauguration. Namely, we cannot bring our mobile sound system to the Washington Monument grounds like we did in 2013.  This means some DCMJ volunteers will go as far as they are permitted to go with the sound system, then turn back home, while others will continue on to the National Mall.
Those of you who plan to go through the security checkpoint near the Washington Monument, please be mindful of what you can and cannot bring with you.  The Presidential Inaugural Committee has issued a laundry list of items that are prohibited on the National Mall:
Aerosols

Ammunition

Animals other than service/guide animals

Backpacks and bags exceeding size restrictions (18" by 13" by 7")

Bicycles

Balloons

Coolers

Drones and other unmanned aircraft systems

Explosives

Firearms

Glass, thermal, or metal containers

Laser pointers

Mace / Pepper spray

Packages

Selfie Sticks

Signs exceeding the size restrictions (20" x 3" x 1/4")

Structures

Supports for signs and placards

Toy guns

Weapons of any kind

Any other items determined to be potential safety hazards
Not listed: CANNABIS!  Har, har, har…  But please note, if you choose to bring cannabis on to Federal land (like the National Mall), you risk arrest. Moreover, if you choose to consume cannabis (aka smoke that joint at 4 minutes & 20 seconds into Trump's speech) on Federal land, you risk arrest.
We strongly believe in the importance of non-violent civil disobedience as means to change unjust laws, like cannabis prohibition. If you do get arrested, we have set aside some money to help activists with legal costs. If you plan on engaging in non-violent civil disobedience, please use a permanent marker and write 202-733-4640 on your arm. Please call the DCMJ hotline, if and only if, you get in trouble with law enforcement related to #Trump420.
---
DO's & DON'TS of the Inaugural #Trump420
DO: Be Patient! We've waited our entire lives for cannabis to be legalized in America, what's a few more minutes of waiting?
DON'T: Consume cannabis while waiting in line.  Not only do you risk arrest, you are missing the point of our demonstration!
DO: Bring your ID! If you look under 30 years of age, a volunteer will likely ask you to see it.
DON'T: Be rude to others! There will be people that disagree with you on many important issues, but we all agree that cannabis reform is needed now. Agree to disagree! Focus on what we have in common and you might end up making some new friends!
DO: Wear your Phrygian Cap (if you have one), a red stocking cap, or anything red. One way to Make America Great Again is to let Americans grow what George Washington once grew: CANNABIS! We own the color green, so why not co-opt the color red?
DON'T: Forget to bring some joints of your homegrown cannabis!  But be sure to carry no more than 2 ounces of cannabis on your body.
DO: Be nice to the police. There will be thousands of police in town working the inauguration who do not live in Washington, DC.  They might not know that MPD gives 1st amendment demonstrations a lot of leeway and are required to give us 3 amplified warnings before making arrests. Federal law enforcement (aka National Park Police, FBI, Secret Service, U.S. Capitol Police, etc.) are not required to warn us before they make arrests.  It is likely the out-of-town police officers will defer judgement to MPD if arrests are likely to occur.  But one way we can prevent bad things from happening is respecting the law enforcement. We know we can make their job a lot easier if cannabis was fully legalized! They are here to keep order and prevent terrorism, not to stifle free speech.
DON'T: Leave your positive attitude at home! Bring it! We are making history together, so let's stay positive and know that together we are one of the strongest forces for positive change in the world!
DO: Check out the Washington Post's map of Federal & Non-Federal land in Washington, DC. About 20% of DC is federal land where cannabis possession is not legal.
---
LETS DO THIS!