Joints For Jabs was a
HUGE

success! THANK YOU!
On 4/20/2021 over 85 DCMJ volunteers stationed at 30 vaccination sites across the District of Columbia gave away over 8 pounds of DC-grown cannabis rolled up into over 4,200 joints!
As of 4:20pm on 4/20/2021, we are completely OUT of cannabis!
---
---
---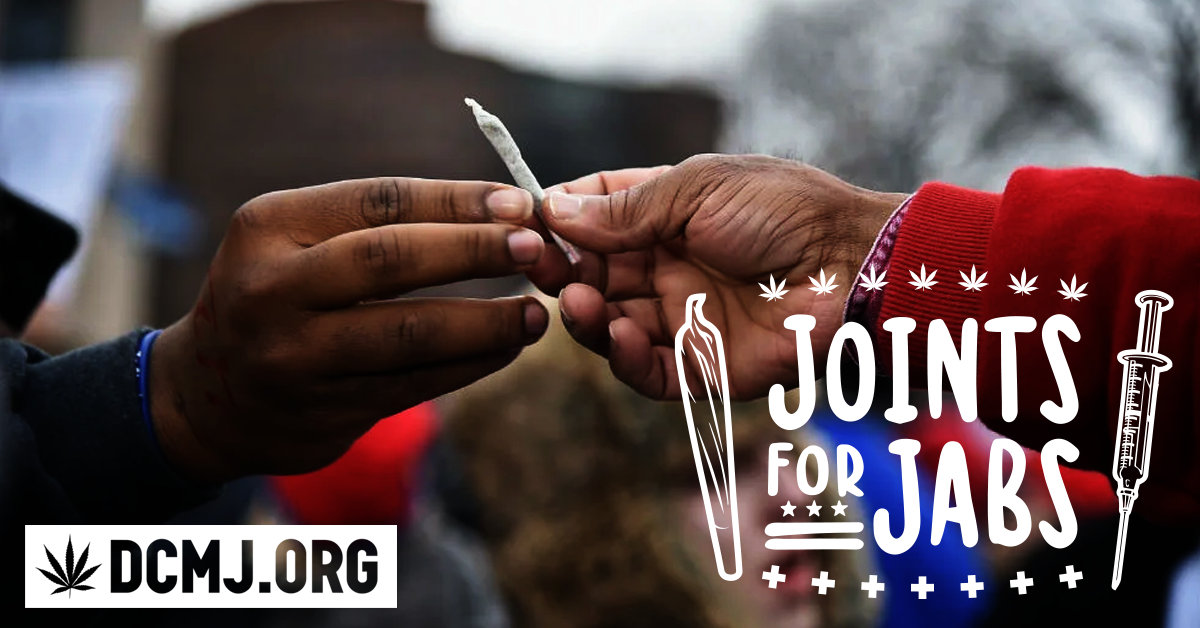 From free joints at dispensaries to free bags of weed outside vaccination centers, across the United States cannabis reform advocates are stepping up to organize their own cannabis giveaways to help end the coronavirus pandemic. DC Marijuana Justice believes that cannabis can help heal the nation and strongly believes that you can help do your part in ending the pandemic by getting vaccinated and assisting others in getting vaccinated. DCMJ's Joints For Jabs will be taking place at vaccination sites across the District of Columbia on Tuesday, April 20.
---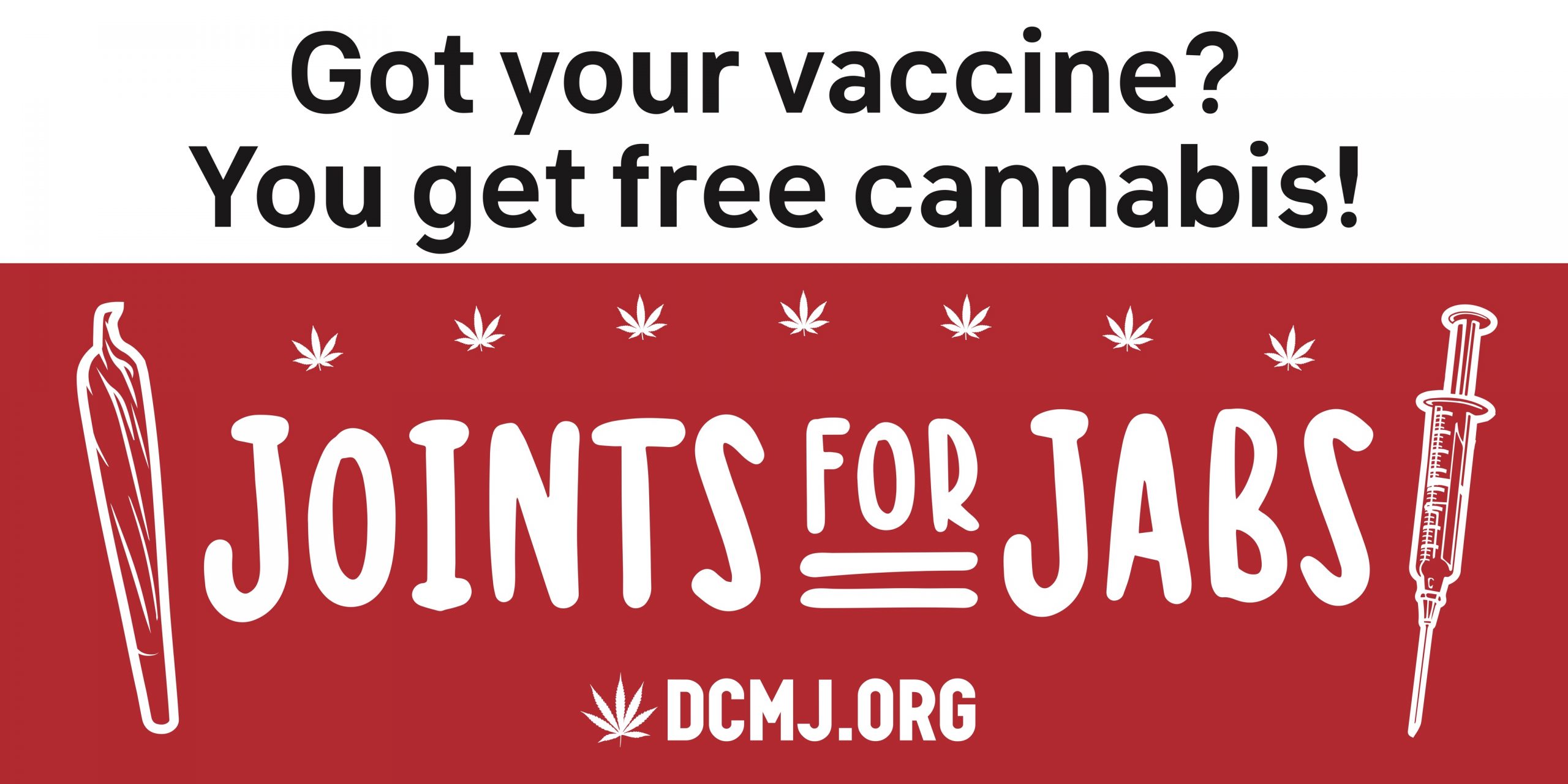 TAKE ACTION!
Later this year the DC Council will be voting on NEW cannabis reform legislation. We need your help to make it work for EVERYONE. Not just deep-pocketed cannabis businesses, but ALL DC residents!
We are demanding the cannabis reform legislation embrace true MARIJUANA JUSTICE!
How?
STOP OVER-POLICING DC! After Initiative 71 became law, the DC police continued to over-police neighborhoods of black, brown, and indigenous people of color (BIPOC). We are calling for an END to this practice. We believe legalization should end discrimination, not more police involvement in our communities. We believe that ALL criminal penalties associated with cannabis should be replaced with civil penalties, like warnings and fines, not arrests and jail.
SAY NO TO ANY CHANGES TO INITIATIVE 71! Mayor Bowser's "Safe Cannabis Sales Act of 2021" still keeps criminal penalties in place. In fact, it makes some aspects of Initiative 71 illegal! The Mayor wants to criminalize the amount of cannabis you can legally keep at home and make giving away cannabis at demonstrations illegal. Under the Mayor's proposed legislation, the joint you received at Joints For Jabs would be considered an "unlawful transaction." Worse, the Mayor's bill will make it illegal to have more than 10 ounces of cannabis at home, even when one cannabis plant can weigh more than 10X that! Tell the DC Council that any adult should be able to give another adult cannabis for whatever reason. No one cares about how much wine you have at home, so why should cannabis be any different?
LEGALIZE CASUAL SALES! Have some extra cannabis that you grew and your buddy wants to buy some? You should be allowed to sell up to $599 a year in cannabis without penalties. No one cares if you sell some of your extra veggies from your garden to your neighbor, so why should cannabis be any different?  Independent contractors can earn up to $599 a year without paying taxes on their income and we believe this should apply to casual sales of cannabis.
ALLOW COOPERATIVE GROWS! Some adults cannot grow cannabis in their homes due to provisions on their lease. Other adults who live alone are limited in the number of plants they can grow at home (6 plants total). A cooperative grow would allow consenting adults to legally increase their plant count by allowing adults to grow their plants at someone else's home.
DEMAND ON-SITE CONSUMPTION! Smoking not allowed in your building? Where are you supposed to consume your cannabis? In Amsterdam they have coffeeshops that allow on-site consumption. Not everyone likes to drink alcohol, but cannabis cannot be consumed at any DC bar. In DC there is no legal place to consume cannabis except at private residences. In New York, cannabis can be consumed at any place where cigarettes can be smoked, including sidewalks. Why not DC?
EXPAND FARMERS MARKETS! We can buy locally made beer and liquor at farmers markets, why not locally grown cannabis? There is no good reason why DC cannabis growers should not be able to sell their extra cannabis at DC's farmers markets. Tell the DC Council that Farmers Markets need to be opened up to local cannabis growers!
Your input is NEEDED!
CONTACT YOUR COUNCILMEMBERS NOW!
Every DC resident is represented by one Ward Councilmember, four At-Large Councilmembers, and the Chairman. You should contact ALL SIX!  Not sure which Ward you live in? Click here to find out.
Stay involved with DCMJ by signing up for our email list.
---
Normally we would publish the full list of vaccination sites, but in order to prevent crowding, we've decided to not list them. We encourage everyone to visit the site they got their first shot at and check to see if there are DCMJ volunteers stationed outside!
---
Read DCMJ's Joints For Jabs Press Release (1/11/2021)
---