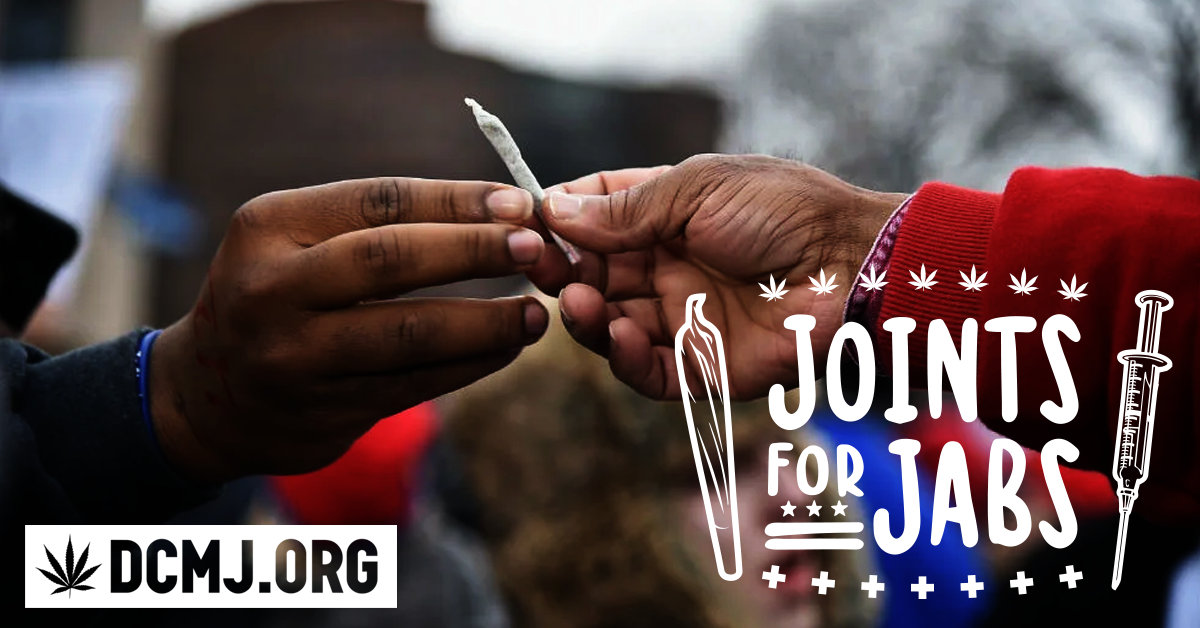 From free joints at dispensaries to free bags of weed outside vaccination centers, across the United States cannabis reform advocates are stepping up to organize their own cannabis giveaways to help end the coronavirus pandemic. DC Marijuana Justice believes that cannabis can help heal the nation and strongly believes that you can help do your part in ending the pandemic by getting vaccinated and assisting others in getting vaccinated.
DCMJ would like to help you organize and promote a safe cannabis giveaway this Spring. From listing your time, date, and location(s) on our website and social media, to providing resources to assist in your organizing and planning, we want to help. Although we cannot provide you or your organization with cannabis until the federal government changes its laws, we can assist in cities and states where cannabis is legal. Our goal in doing this is to fully legalize cannabis, including home cultivation, and to help end the pandemic.
If you are interested in promoting your giveaway or setting up one, please fill out our Joints For Jabs Google Form. We will have custom face masks, a checklist to help plan your giveaway, and will assist in promoting your effort on our social media platforms.
---
CURRENT CANNABIS GIVEAWAYS
| NAME | VENUE | LOCATION | DETAILS |
| --- | --- | --- | --- |
| Joints For Jabs | DC Vaccination Centers – TBD | Across Washington, DC | Starting in March when the general population can get vaccinated. Locations TBD |
| Pot For Shots | Greenhouse – Walled Lake | 103 EAST WALLED LAKE DR., WALLED LAKE, MI, 48390 | The Greenhouse of Walled Lake "Pot for Shots" |
---
Read DCMJ's Joints For Jabs Press Release (1/11/2021)
---