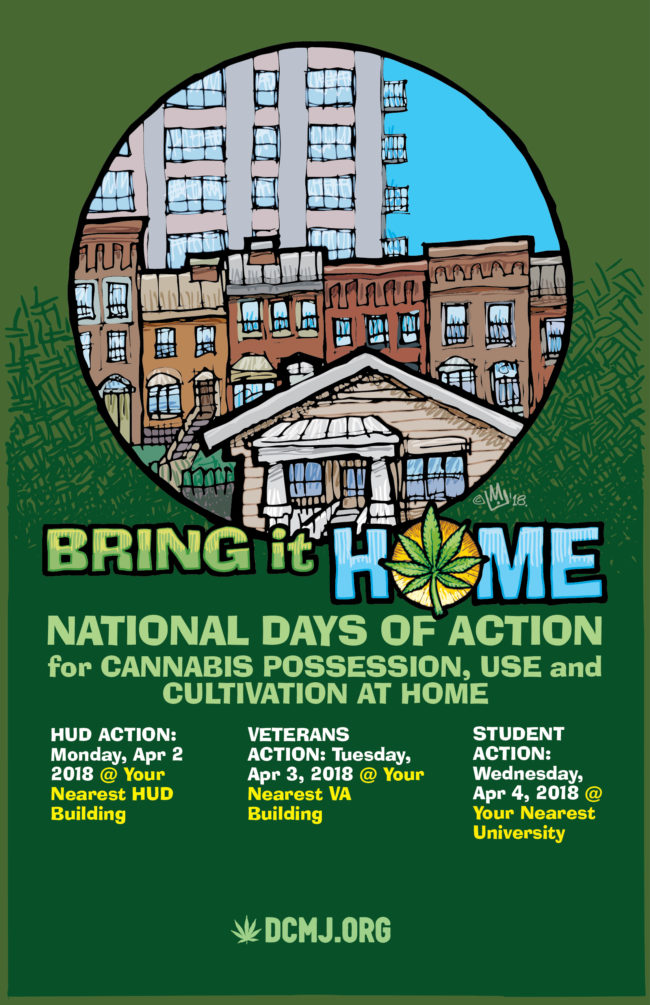 During the first week of April 2018 join cannabis activists from around the country for three days of demonstrations. The "Bring It Home" Campaign aims to highlight the fact that even states with some forms of legalized cannabis, many adults cannot legally "Bring It Home"
MONDAY, APRIL 2 – Adults receiving government assistance for their housing can be evicted from their homes for the possession, use, and cultivation of cannabis. Although 29 states and the District of Columbia and Puerto Rico have legalized some form of cannabis, as long as the federal government classifies cannabis as Schedule One substance, adults cannot use, possess, or grow cannabis if they receive any government assistance. This needs to change!
LOCATION = Your Nearest HUD Building
Not sure where they are? Check: https://www.hud.gov/program_o…/field_policy_mgt/localoffices
CONFIRMED DEMONSTRATIONS:
• Baltimore, MD – 3pm @ 417 E Fayette St
• Washington, DC – 12pm @ 451 7th St SW + 4pm @ 1133 North Capitol St NE
===
TUESDAY, APRIL 3 – Veterans who valiantly served in the United States military are denied the right to obtain a recommendation for cannabis from the VA doctor. Although 30 states and the District of Columbia and Puerto Rico have legalized some form of cannabis, as long as the federal government classifies cannabis as Schedule One substance, Veterans cannot use, possess, or grow cannabis at any VA Building. This needs to change!
LOCATION = Your Nearest VA Building
Not sure where they are? Check: https://www.va.gov/statedva.htm
CONFIRMED DEMONSTRATIONS:
• Baltimore, MD – 3pm @ 31 Hopkins Plaza
• Washington, DC – 12pm @ 810 Vermont Ave NW
===
WEDNESDAY, APRIL 4 – Students in states with legalized cannabis can be kicked out of their dorms for cannabis. Worse, at many universities students have already paid for calendar year's housing and if they are caught with cannabis they must find housing off-campus and do not get their money back from the university. Although 30 states and the District of Columbia and Puerto Rico have legalized some form of cannabis, as long as the federal government classifies cannabis as Schedule One substance, students cannot use, possess, or grow cannabis at any and could be ruin their educational prospects if they Bring It Home. This needs to change!
LOCATION = ONLINE TWITTER STORM! It's time for students sound off!  More details soon!
===
---
We plan to add confirmed Bring It Home demonstrations to this page. We request organizers create Facebook Event and send us the link so we can update this page with the time, date, and location. Together we are going to change these outdated policies so everyone can have safe and equal access to cannabis!
Please spread the word by sharing this page and by RSVPing to the Bring It Home Facebook Event.
Questions? Have a confirmed Bring It Home demonstration? Please contact: BringItHome@DCMJ.org