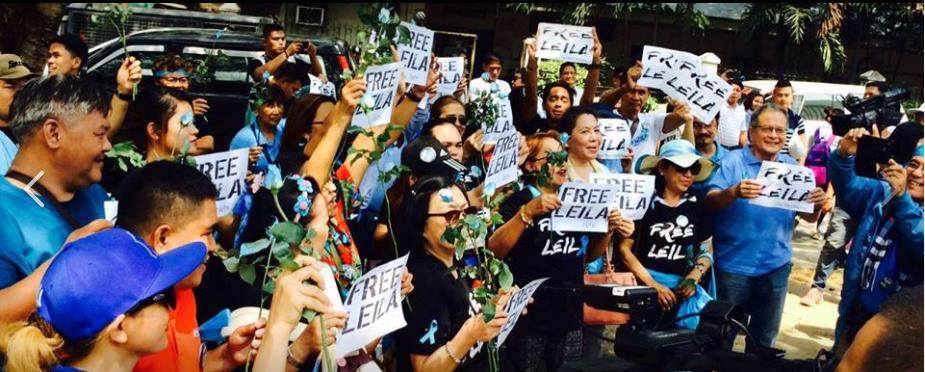 Philippines Stop the Drug War Killings! Free Senator de Lima!
Join us Wednesday, February 28 for a lunchtime demonstration!
Since Philippine President Rodrigo Duterte took office in June 2016, police and vigilantes have murdered more than 16,000 purported drug users and sellers in a bloody campaign of extrajudicial killings. Duterte, who has repeatedly promised to kill hundreds of thousands of people, and who has bragged about killing people himself, is now being investigated by the International Criminal Court for alleged Crimes Against Humanity.
A year ago, the Philippines' leading critic of Duterte's violence, Senator Leila de Lima, was jailed on fabricated drug charges. The charges were apparently brought in retaliation after de Lima had a confessed former member of Duterte's Davao Death Squad testify in the Senate.
On Wednesday, February 28th, please join Filipino Americans, drug policy reformers and other human rights defenders to call for an end to extrajudicial killings and for Senator de Lima to be freed. We will rally from noon to 1:00pm in front of the Philippines Embassy, 1600 Massachusetts Avenue NW in Washington, DC. Among other things, the event will feature a street theater performance in which attendees will symbolically free a Senator de Lima figure from a realistic mobile model of a prison cell.
Please email David Borden to get involved in preparations for this demonstration or for other information, and please spread the word! Participating organizations so far include:
Amnesty International USA
Criminal Justice Policy Foundation
DCMJ
Ecumenical Advocacy Network on the Philippines
Filipino American Human Rights Alliance
Institute for Policy Studies Drug Policy Project
StoptheDrugWar.org
Students for Sensible Drug Policy
---
Watch the Livestream: