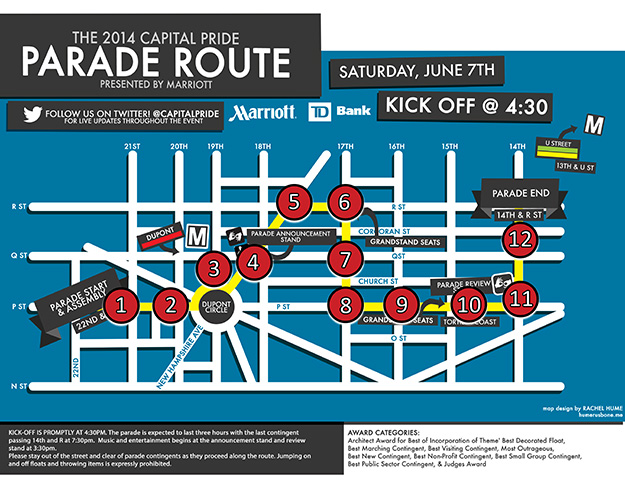 Join the DC Cannabis Campaign at the Pride Parade & Pride Festival!
On Saturday, June 7, campaign circulators are planning to line the Pride Parade route to collect signatures. If you are interested in helping out, please email Volunteer@DCMJ.org and include the number on the map above of where you'd like to be during the parade.
On Sunday, June 8, campaign circulators will be at Booth B429 at the Pride Festival, near the intersection of 4th St. NW and Pennsylvania Ave, from 12pm to 7pm. If you are interested in helping out at the Festival, please email Volunteer@DCMJ.org.
If you haven't volunteered with the campaign yet and would like to collect signatures, you'll need to come by the campaign HQ at 2448 Massachusetts Ave. NW and register with the campaign. Please bring your DC ID to provide proof that you are DC resident. If you are not a DC resident and would like to volunteer with the campaign, you need to stop by the DC Board of Elections (441 4th St. NW, Room 250N) to fill out a non-resident circulator form and bring the yellow carbon copy to the campaign HQ.
This weekend is going to be a lot of fun, so come and join us as we show off our cannabis pride!
It's time to come out of the cannabis closet!