Check out the video from March of the Clones:
"March Of The Clones" Washington DC 09.24.16 from Mike Flugennock on Vimeo.
---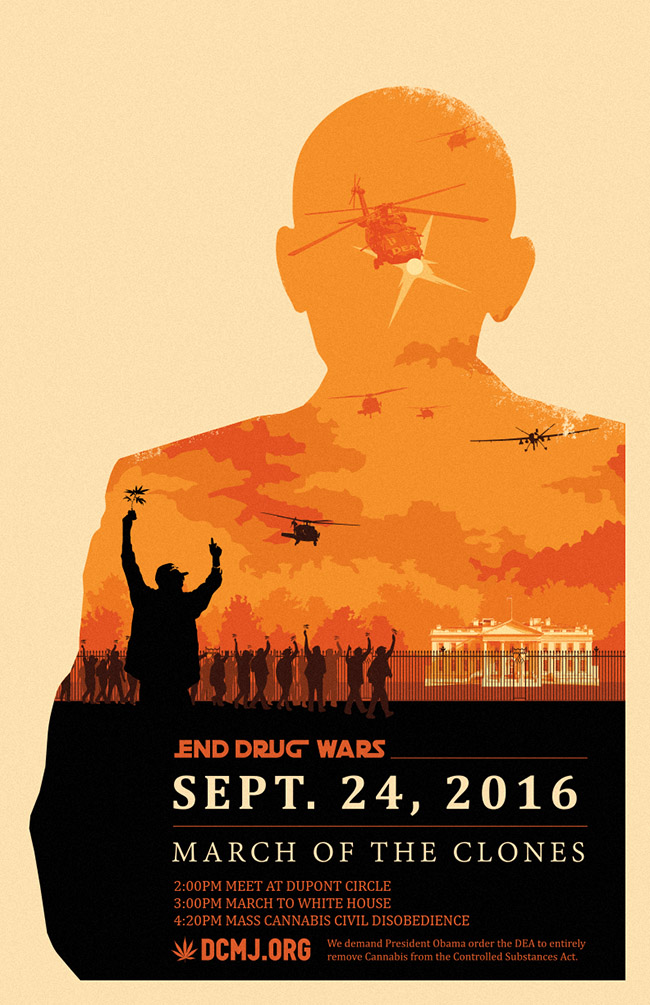 For far too long the power of the Dark eeide (the DEA, the prison industrial complex, and ignorant members of Congress) has lead to the arrest and jailing of millions of Americans for non-violent drug offenses. As President Obama's final days at the White House wind down, he needs to be reminded that he can be a Force of Good and end the failed war on drugs NOW.
On Saturday, September 24, 2016, we will gather at 2pm in Dupont Circle for a short rally, then at 3pm we will march 1 mile down Connecticut Ave. to the White House, and at 4:20pm we will engage in mass civil disobedience on Pennsylvania Ave.
We urge everyone to bring cannabis cuttings that weigh under an two ounces to create a sea of green to show President Obama that cannabis is a harmless plant not worthy of being in the Controlled Substances Act.
This is an unpermitted demonstration but is a first amendment protected activity. However, possession of cannabis on federal property is still a crime which we believe must end. Possessing cannabis in Dupont Circle and Lafayette Park (both National Parks) is unlawful and is an arrestable act of civil disobedience. Those wishing to participate but who do not wish to break law can join us on DC streets (Connecticut Ave. outside of Dupont Circle and Pennsylvania Ave. by way of 17th St.) without fear of arrest.
Please spread the word about the March of the Clones by inviting your friends on Facebook or tweeting about the demonstration using the hashtag #MarchOfTheClones !