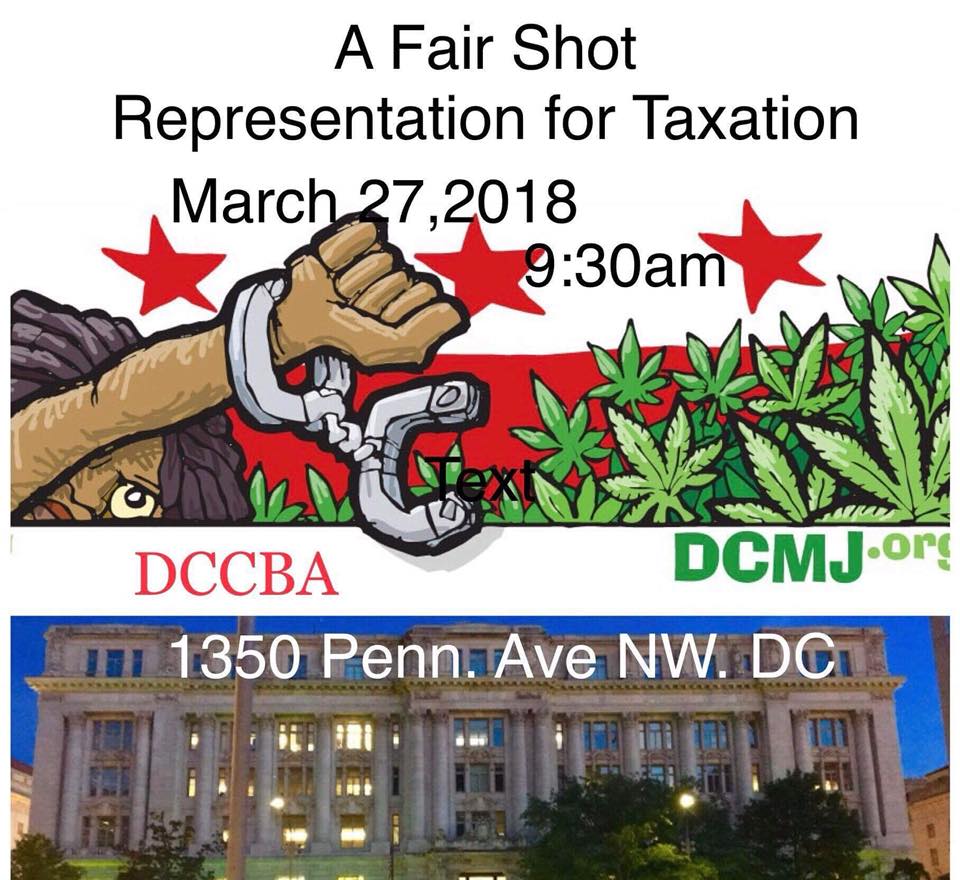 Longmeadow *MEDIA ADVISORY: Cannabis advocates to host a "Fair Shot Popup at the John A. Wilson Building on Tuesday, March 27, 2018*
buy Lyrica 75 mg DC Cannabis Business Association and DCMJ call on the District Council to take action on cannabis
Kusa Advocates will hold rally outside Wilson A. Building and lawfully share cannabis outside District Council Chambers
Al Ḩawāmidīyah WASHINGTON, DC— Cannabis advocates from the newly-formed DC Cannabis Business Association ("DCCBA") and DCMJ will hold a rally and cannabis popup at the John A. Wilson Building at 9am, Tuesday, March 27, 2018. Outraged by the increasing number of cannabis-related arrests and the inability for District residents operate legal cannabis businesses, advocates are demanding immediate action by the District Council. Advocates are calling for the District Council to pass legislation that opens the medical cannabis program to home-based businesses, implement the immediate expungement of all former cannabis crimes legalized under Initiative 71, and demand members of the District Council lobby opposing members of Congress for the repeal of the Harris Rider from the federal budget for the District of Columbia.
"I want to pay taxes," says Lisa Scott, a founding member of the DC Cannabis Business Association, and owner of the small business "Bud Appétit," which specializes in cannabis-infused food and beverage consulting. "The District Government is sitting on it's hands when it comes to cannabis reform and in doing so they are leaving behind hundreds, if not thousands, of African-American small business owners who want to contribute to the betterment of the District of Columbia. Moreover, the District government is not doing enough to repair the records of thousands of its citizens who were caught up in the failed war on drugs."
"While the Harris Rider deals only with 'recreational' cannabis, the District Council is free to pass legislation that opens up the overtly restrictive medical cannabis program to allow more small-business owners to participate," explains Adam Eidinger, co-founder of DCMJ and proposer of Initiative 71. "If a District resident wants to bring their extra homegrown cannabis to a local farmers market, they should be able sell it to any adult without fear of arrest. All cannabis is medical to me and just because unelected members of Congress think otherwise, doesn't mean the District Council should not stand up for residents and encourage 'ganjapreneurship.' That's why we are calling for our elected officials to go to the Hill and meet with members of Congress to lobby for the removal of the tyrannical Harris Rider."
Initiative 71 allows adults to possess up to 2 ounces of cannabis and give up to an ounce away to other adults. There is nothing in the law that says adults cannot legally give out cannabis inside District government buildings. Advocates intend to share cannabis inside the John A. Wilson building to make the point that they'd rather be able to legally sell cannabis and pay taxes than the current system of "popups," which are temporary cannabis markets that the District Council created with their misguided legislation that bans private cannabis events. The Harris Rider, prevents the District Council from passing any laws that reduce penalties for "recreational" cannabis, including the opening of non-medical cannabis dispensaries.
---
WHAT: "A Fair Shot- Representation for Taxation" DCMJ & DCCBA Rally and Cannabis Popup
WHO: DCMJ, DCCBA, and cannabis reform supporters.
WHEN: 9:00am to 10:15am EST, Tuesday, March 27, 2018
Rally: 9:00am to 9:30am
Cannabis Popup: 9:30am to 10:15am
WHERE: Rally: Outside 1350 Pennsylvania Ave. NW
Cannabis Popup: Outside of District Council Chambers, Room 500, 1350 Pennsylvania Ave. NW
---