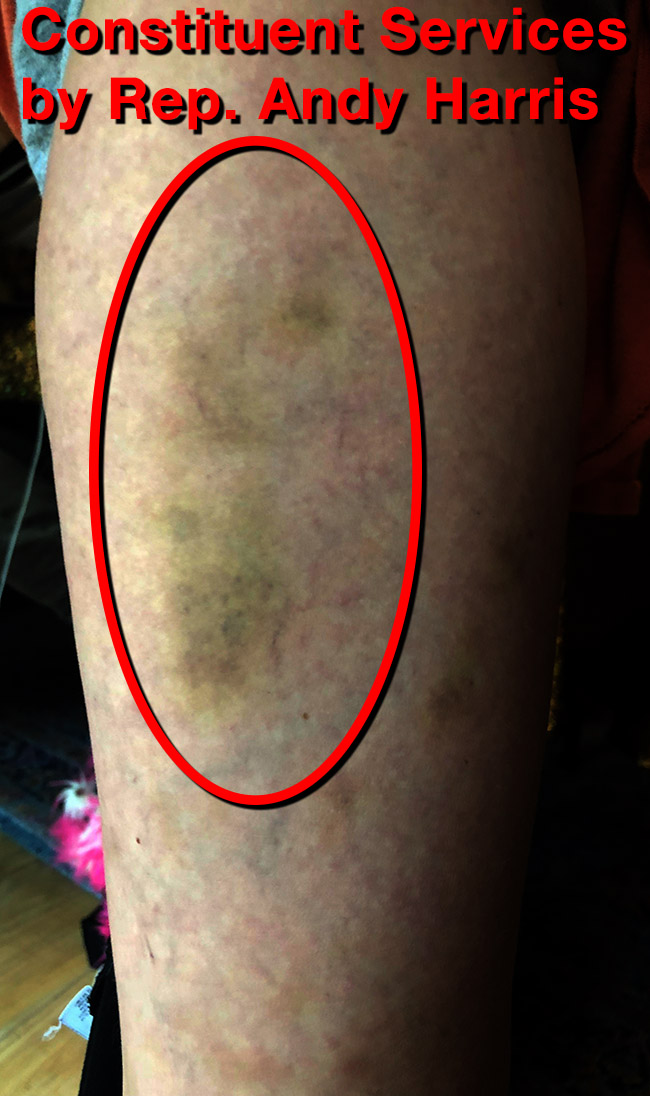 FOR IMMEDIATE RELEASE
Tuesday, October 23, 2018

CONTACT:
ADAM EIDINGER (202)744-2671
Adam@DCMJ.org
RachelRamone Donlan Files Civil Case Against Rep. Andy Harris For Slamming Door On Her
Lawsuit Seeks $10,420 in Damages
WASHINGTON, DC – Today cannabis reform advocate and DC Marijuana Justice ("DCMJ") volunteer, RachelRamone Donlan, filed a civil complaint in Form 95 against Congressman Andy Harris for his violent actions against her on October 2, 2018. In her Form 95, Ms. Donlan outlines that Rep. Harris' untoward behavior bruised her leg and the ensuing incorrect press reports tarnished her reputation as a non-violent advocate for the reform of cannabis laws.  Ms. Donlan civil lawsuit seeks $10,420 in damage for the pain and suffering caused by Rep. Harris.
Background on the Incident Triggering Ms. Donlan's Case
At an August 10, 2018 town hall meeting in Salisbury, Maryland, Rep. Harris gave a pledge to Ms. RachelRamone Donlan to have a meeting concerning medical marijuana. Â When she saw him walking down the hallway towards his Capitol Hill office on October 2, she believed he was going to finally talk to her. As Ms. Donlan tries to speak to Rep. Harris, not touching him or yelling at him, she rushes to follow him into his public office not knowing he was entering through a private side door about 15 feet away from the actual main public entrance that was open at the time. Instead of welcoming her or saying use the other entrance to anyone present, he quickly slammed the door in her face, and physically hurt her leg and knee. Â Ms. Donlan, who is disabled, weighs about 90 lbs, and suffers from Ehlers-Danlos Syndrome, which is a genetic connective tissue disorder that causes her intense physical pain. Â She has been consuming medical marijuana since 2011 for pain relief and as a result is opioid-free.
"I was trying to speak to the Congressman about how cannabis saved my life," said Ms. Donlan, "but instead of pausing to listen, he slammed the door on my leg and knee." Ms. Donlan proceeded to stage an "overdose" outside of Rep. Harris' office and in order to deal with the physical pain caused by the congressman and his staff, she lit up a cannabis "joint" and was arrested by the U.S. Capitol Police for consumption of marijuana after about 1 hour on the floor.  During that period Congressman Harris released a statement to the press alleging violence had been done to him and the following day he released a second statement on his congressional website. "Congressman Harris would rather people take pills than utilize the healing properties of cannabis," concludes Ms.  Donlan, who wrote an "apology," to Congressman Harris and continued to seek dialogue with him before making this decision to file the formal complaint.
For over four years cannabis reform advocates have sought meetings with Rep. Harris and for four years he's been evasive, misleading, and outright hostile to cannabis reform advocates. The October 2 incident only showed how far out of his way Rep. Harris would go to avoid civilized debate: he hid in his office like a coward. Twenty minutes later Rep. Harris came outside of his office with the U.S. Capitol Police, he couldn't even identify the person who allegedly assaulted him.  He did recognize Adam Eidinger, a constituent that moved to Salisbury after Harris inserted legislation in the DC Budget preventing lawmaking authority to DC elected officials on matters relating to cannabis reform. Rep. Harris claim he hurt his wrist slamming the door on Rachel is an attempt to spin his cowardice to address cannabis reformers. Harris describes political violence that didn't occur in a Wall Street Journal Op-Ed, but Rep. Harris' negligent action of slamming his office door on Ms. Donlan resulted in bruising to her leg and knee was the only violence that day.  
###