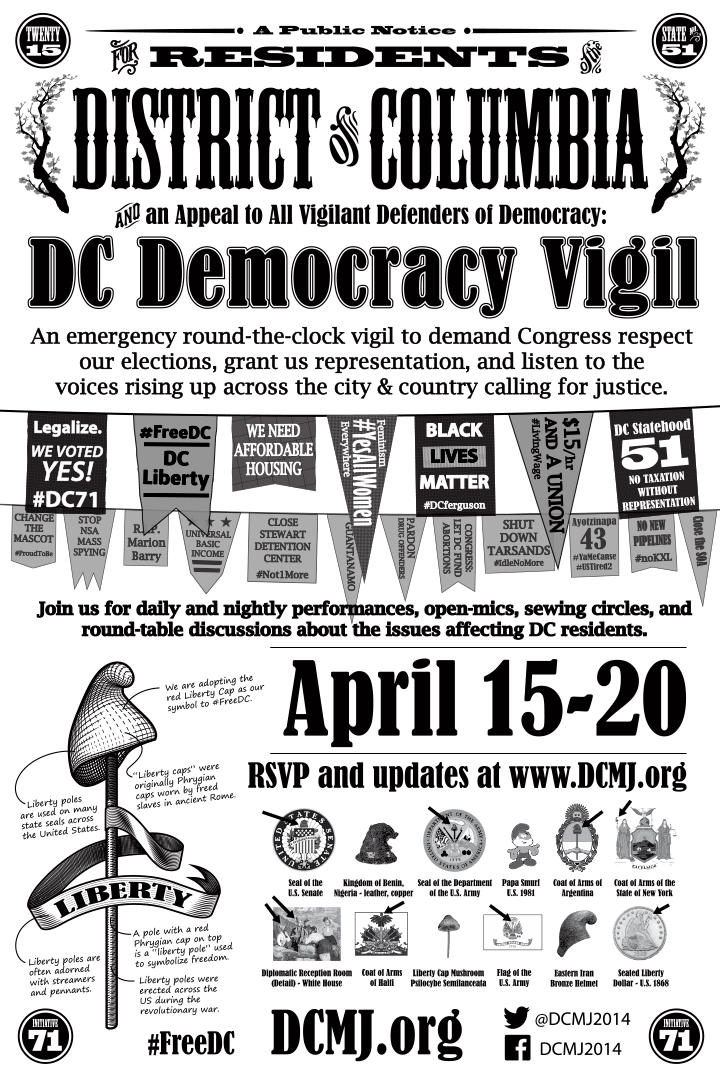 At the beginning of this year we sought volunteers to staff a DC Democracy Vigil. Had Congress moved to overturn Initiative 71, we planned to stage at 24 hour a day vigil to highlight our discontent. But after our meeting last week with Representative Jason Chaffetz's staff, where we offered him a chance to reset relations with DC residents, we came away thinking Congressional leaders are not going to lift a finger for us! We have no choice but to escalate protests NOW to ruin their fake "freedom" brand and see them exposed for what they are: Oppressors.
Join dozens of I-71 volunteers who will start a 5-day 24/7 vigil from April 15 (tax day) to April 20 but we want thousands to join in the effort to shame our oppressors. Please RSVP in form below. The vigil location is a secret until April 15, so RSVP below to get the details.
Our DC Democracy Vigil is less about cannabis freedom and more about securing the same political freedoms as Americans who live in states have, like the right to elect Senators and Representatives, and to take part amending the constitution. The kerfuffle surrounding I-71 is just one facet of a larger struggle for genuine equality for District of Columbia residents. A status quo of no vote in Congress in the year 2015 is simply outrageous! We honestly believe that this is one of the most important civil rights struggles we can fix with enough united pressure from citizens like you.
We chose tax day, April 15, because DC's license plates proclaim "Taxation Without Representation" and one of the most intrinsic tenants of freedom is the consent of the taxed, which we are denied. April 16 is DC Emancipation Day and many people have the day off. It's a perfect time come protest with us!
NOT ENOUGH REASONS TO PROTEST?
Although DC citizens fight in wars abroad, we have no say in matters of war and peace at home yet we are literally putting our lives on the line. Shouldn't we sacrifice as much here for Democracy as we are willing to sacrifice in other countries?
DC residents pay more in taxes than any other state in America, but we are denied the right to choose how our tax dollars are spent. No other industrialized nation in the world denies the residents of its national capital the right to participate in the country's national legislature, except the United States.
With your help, this 214-year-old constitutional catch-22 will come to an end. Help put the spotlight on the District of Columbia so folks who live outside of the DMV will understand and demand change from the Republican-controlled Congress that cares little for DC, except when they want to force their will on us.
Chairmans Chaffetz & Rogers and Senator Cruz don't deserve to be lobbied any longer by us, they deserve protests and to be given a 21st century tar and feathering in social media. They deserve public shaming, and as much disruption as possible to highlight their continued denial of our basic human rights.
So don't just read this, take action! Join the DC Democracy Vigil and help construct a Liberty Pole with us. Then join the 24/7 open mic to FREE DC and engage those who are unaware of our plight. Please RSVP below so we can figure out how many people we can expect over the 132-hour protest. Location and instructions for the Vigil will be emailed to those who RSVP only.
You already made history by participating in the legalization marijuana despite Congressional harassment. Now let's step up our efforts to free DC by getting fully equal to our brothers and sisters of the 50 United States.
See you April 15-20!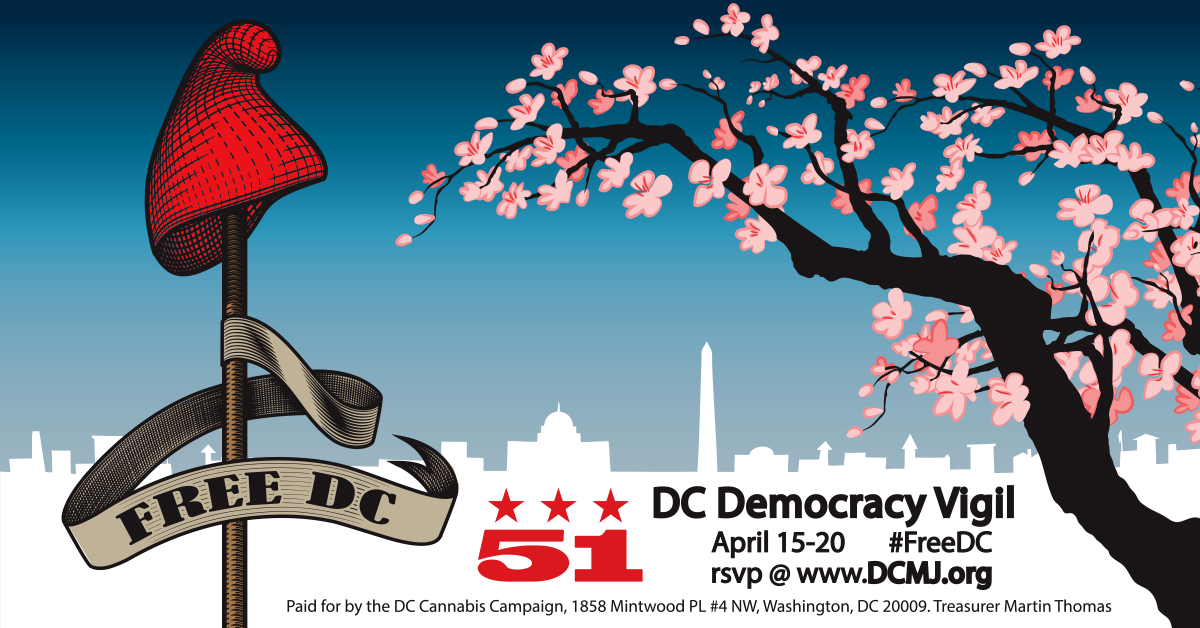 ---
If you are planning to attend, but can't volunteer for a shift, please RSVP on Facebook and invite all your friends!